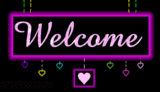 Hello & Welcome to our newest members!!
Hello to ALL of our new members that have not been properly welcomed to this wonderful forum!

My name is Beth & I happened to notice today that we have had 11 new members join us within the month of May, as well as one new member here in June! Previously on this forum, we tried to welcome each new member as they joined & to ask if you had any issues that you would like to bring to the table, as well as wondering what brought you to become a member here. Unfortunately, we have not been able to keep up on this due to lack of help for our only Moderator whose name is Dee & who happens to be carrying the entire weight of keeping this forum running. God bless her precious soul!!

In the past, Dee has had more help in these type of areas, but as it currently stands, she is doing everything within her power to help answer questions for members who are having issues that they need help with, as well as making sure that everything on this site is HON-code certified (meaning that everything on here is factual to prevent confusion for those of us who only come onto here to read the information that is provided) and she still manages to post articles pertaining to addiction, Suboxone, Methadone & any news related issues about such subjects.
This forum would not be what it is without our precious Dee!
Yet, as we all know, one person can only do so much & how she does it all is beyond me!

So today as I happened to notice how many new members we have as well as ALL of our currently existing members, I actually had an idea!!

(UH-OH!)

We have about 500 members & only one person who is actually taking the responsibility to make sure to post everyday, despite what she has going on in her own personal life. Therefore I am sincerely asking ANY of our members to PLEASE step up & give Dee a helping hand by sharing your experiences along the paths of your own recoveries. You never know who YOU may just help out with by merely saying "Hello!" It IS very difficult to come onto here & talk about yourself & what your addiction has caused within your own lives, but I can guarantee that you will NEVER be judged, ridiculed, nor thought any less of for sharing your story or any good advice that you have obtained along the journey of your recovery. We have ALL been there or we wouldn't be here, right?

Anyways, I just wanted to put the word out that we are so happy to have our newest members here with us & to ask anyone who has even just a minute or two to please also take the time to welcome them to OUR forum & offer up some words of encouragement! This is definitely NOT a journey meant to take alone...

THANK YOU ALL VERY MUCH!!
Yours in Recovery,
Beth