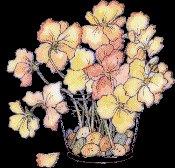 Hi skillet and welcome!
My name id Dee, the other moderator that Barbara mentioned. Being able to welcome new people into the forum is a great joy. It tells me that another person has found recovery.
There as still so many people out there that are still suffering. It might have been a long road you had to travel to make it to where you are today, and I would like to encourage you to share that road.
I'm sure that many people can relate to where you have been.
From this day forward, I want you to looks towards your future. The past is behind you, you can't change the past but you can improve on your future.
If there is anything that we can do for you while you are with us, please let one of us know and we will be here for you.
Look around and read the posts of the other members, gain some inspiration from it. Settle in and be yourself.
I look forward to meeting you skillet.
Yours In Recovery,
Dee
_________________
Nannamom
db622@hotmail.com
"I will let yesterday end so that today can begin."