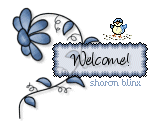 Good morning ODAAT,
I can't believe how many new members we have gotten lately. That is a sign of good things to come. It always pleases me to see new people enter into recovery. This tells me that people are listening. It used to be that addiction was something that you hid in a closet and in some ways it still is that way. But for the most part more and more people are reaching out.
Reaching out for help. Knowing there is help is what counts along with knowing that you don't have to do it alone.
We are here for you and if there is anything that we can do for you let us know and we will do what we can to guide you to the answers you are looking for.
Recovery isn't an easy road, but it is the only road for survival.
Take your time and look around the forum, read the postings of the other members, ask as many questions as you like.
It is good to have you here with us.
Yours in Recovery,
Dee
_________________
Nannamom
db622@hotmail.com
"I will let yesterday end so that today can begin."